See on Scoop.it – Women and Business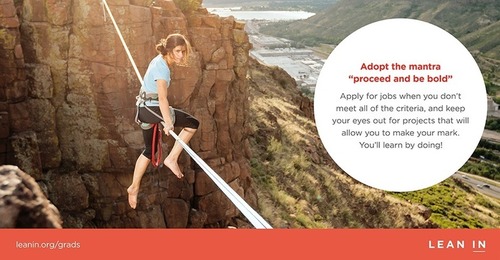 Cookjmc's insight:
There was no handbook or real guidance when I started my career as an administrative assistant (fancy name for secretary) with a BS degree in public law and government. I fought my way through jobs that I was fortunate to have learned from supporting male execs as an admin watching them- to take risks, ask and get into marketing. But I accepted whatever I got pay-wise, never ever thinking about negotiating with them, feeling powerless. Until I picked up the book "knock 'em dead" which had great tips on finding jobs, positioning yourself in the job market and a chapter on negotiating. But even with knowledge I was still afraid to ask… What if I would sounded greedy or that I was undeserving to get more or what I really thought was fair and based on my education and experience, I deserved? It was better just to accept what was given to me and feel "lucky" to have a job.
Though I struggled financially, I accepted that as the way things were. The main question (usually early on the process) when you interview is always geared to "what was your last salary" and in my case the very slow crawl began. Over time I learned to ask, to question, to find out more and ask and discuss with other women about their salaries and how their negotiating processes went. Yes, taboo topic, but why? How can someone know when they have no point of reference to what is fair when you share the same set of skills? I didn't care about what they were making to compare, I cared what they were making to understand very simply, what was possible to achieve! And sometimes I was often surprised with their skill sets and knowing the market in general, why they didn't ask for more. The same reason. They were afraid. Easier to ask them than to ask myself that question.
Times have changed and we have the opportunity to change the discussion. I know that discussion has completely changed for me. But beyond salaries, the power of networking is something I didn't learn until just a handful of years ago! And in the process that networking has lead me to many contacts even from the early stage of my career. Reaching back and reconnecting is a good thing. Reviewing the 10 tips discussed- they are spot on. Especially the point on asking how you can help someone, and not making it all about what you are getting from them. In the corporate world, it is about what you can offer them to help them. It's not about all the great things you have done, but how the great things you have done can help their very real problems.
Bravo for this! If I had children there's no doubt I'd read this book with them cover to cover and discuss. I don't have kids, but I mentor a few young professionals and I'm sure the guidance in here is as solid as the book LeanIn itself- one of the best books I've ever read and wanted to reread again.
See on leanin.org